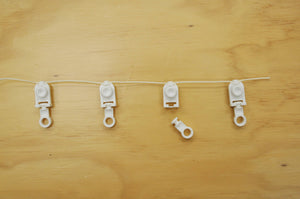 Ripplefold Wheeled Slides with Pendant
2107-25
Wheeled Ripplefold carrier for Forest CS, CL and CM track. Also fits Kirsch 94003, 94004 and 94001, as well as Nexgen and Tekno 40 track,
Does not fit Kontur, Tekno 25, Euro or Invisible tracks.
If your track has to be spliced, the "slide" style ripplefold carrier is better at crossing the joint.
Held a set distance apart by a string to create the ripplefold fullness.
Sold each. Order a quantity of 20 and you will receive 20 carriers on a string.
Spacing:
60% - 2 5/8"
80% - 2 3/8"
100% - 2 1/8"
120% - 1 7/8"
Very helpful advice on the phone
I needed to retro-fit an existing system (the shade store) and they were extremely helpful. The slides worked. So grateful I found this resource, I thought I was going to have to replace everything.
Ripple gold Sliding Wheels
Changed current ripplefold rod from 100% to 60% fold and worked out perfectly except that I wasn't aware that the last wheel that attaches to the end caps on each side was different. Figured out a way to make it work!
Thank you!
---
We Also Recommend